Accessing & Understanding License Management Screen
License Management settings screen lets you do the following:
View your license (product subscription) status which includes total amount of storage (in GB) and total number of seats allotted to you, amount of storage and number of seats occupied and still available

Contact SKYSITE support through email or via phone to upgrade from a trial version to a paid version of the product and get general info on the product
In general, when you first sign up to SKYSITE application and then activate the SKYSITE Facilities & Archive module, you are allowed 30 days trial period of unrestricted access.
After logging in as trial user you can access this screen from inside the application via the Settings menu.
Otherwise, if your trial period expired, then after logging in to the SKYSITE application and then accessing SKYSITE Facilities & Archive module, will land you straight to the License Management screen from where you can contact SKYSITE support for upgrading to a paid version of the product 
Follow the given procedure to access the License Management screen:
Click on  button at the top right-hand corner of the screen to access the Settings Main Menu. This menu is displayed below,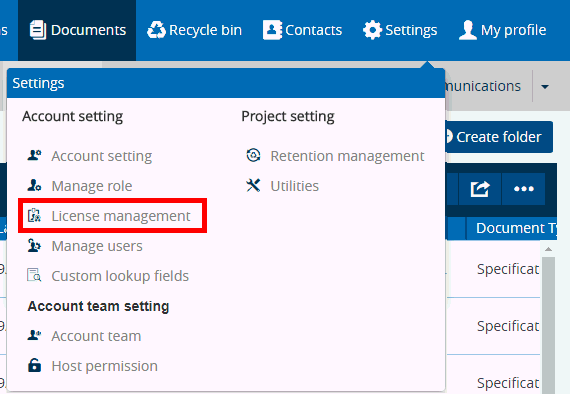 Under the Account Setting heading click on License Management menu item [highlighted in the screenshot above] to access License Management screen. This screen is shown below,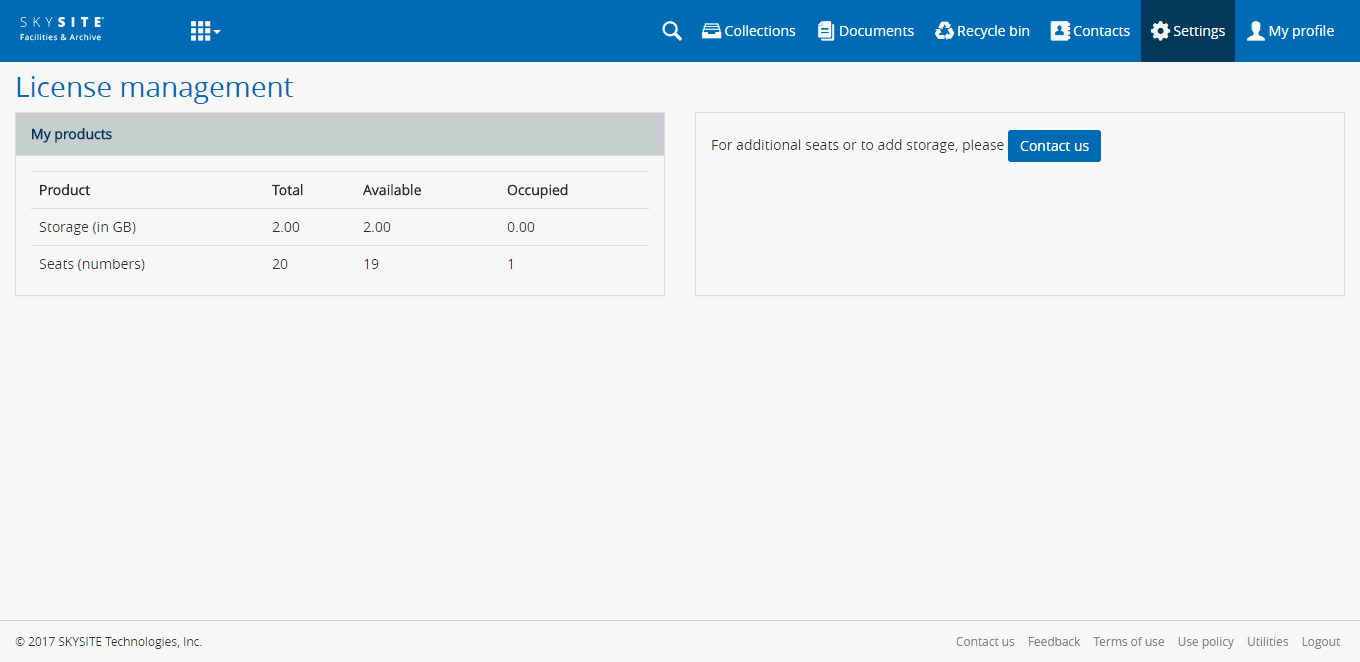 License Management screen consists of two sections:




My Products: This particular section give details of the storage & seats that you have already purchased. The total amount of storage in GB which you have bought, the amount of space you have used & the amount of space that is available to you.

Contact : This section displays the [Contact] button through which you can view SKYSITE support email & phone no.
Click on  (Contact us button) to buy to view SKYSITE support email & phone numbers. The Contact us screen is shown below,