Forwarding Messages
Follow the given procedure to forward a specific message:
Select an appropriate folder from the tree menu. The messages within the selected folder are displayed in t he right-hand panel.

Click on the  (Forward button) adjacent to the contact name. The Send Message window appears. This is shown below,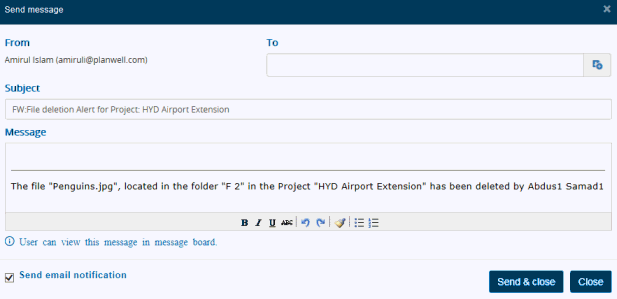 Click  (Recipient Selection button) to add the team member's email ID to whom you want to forward the message in the To selection-box. The Select recipient(s) from the Collection Team Members window opens up.

Select the Collection team or all team members from the Collection Team Member drop-down list. The team members will be displayed in the grid section based on your selection.

Select the Contact(s) from the list whom you want to forward the message.

Click Add or Add & Close. The contact names gets selected in the To text box of the Send Message window.

Select the Send email notification check box if you want to send an email  notification along with the message.

Click Send & Close. The message and notification will be sent and the Send window will close automatically.
Note: Clicking only Close won't send the message but will close the Send window.