Accessing & Understanding Document Packages Screen
The Document Packages screen lets you congregate documents together and create a special package of the assembled documents. Reason for gathering together documents (files) present in any folder of a specific Collection may vary from keeping documents of similar nature together, keeping documents of the same process together, keeping documents together for delivery etc.
Follow the given procedure to access the Document Packages screen:
The Collection Home screen opens by default when you logging in to the SKYSITE Facilities & Archive application. 

In order to navigate to the Collection Folder & File screen click on  present on the Action Bar at the top right-hand side of the screen.

The Document Packages screen opens up. Once on that screen click on the down-arrow beside the (File button) . The Document Packages button is displayed. This is shown below,

Clicking on the button highlighted opens the Document Packages screen. This is shown below,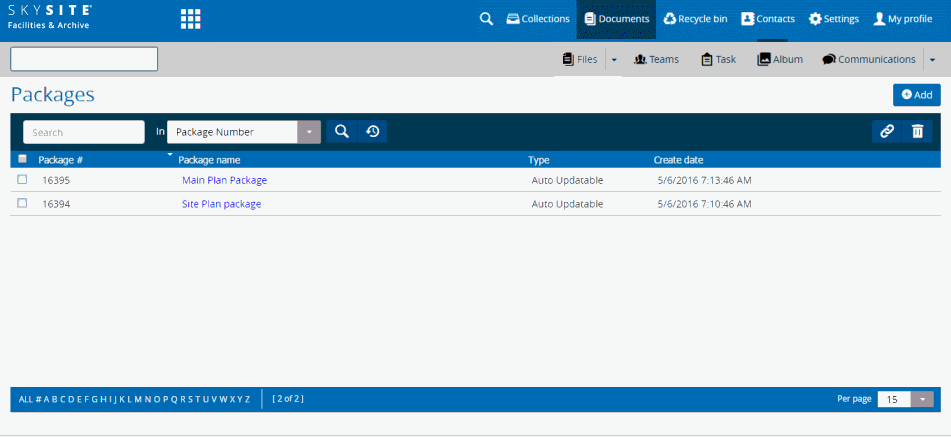 Screen Description:
Existing packages are displayed row-wise in the screen. Column-wise information on each row of the packages are given below,
Package Number: Each document package a system-generated number for identification of the package by the application.

Package Name: Each document package has a name given to it. This name is given during the creation of a document package. Clicking on document name link will take the user to the Edit Package screen from where user will be able to edit the document package information, add or remove documents associated with the document package. The Edit Package screen is similar to the Add New Document Package screen.

Type: This column displays the type document package which is system-generated.

Create Date: This column displays the date and time when the Document Package is created.
Operations which can be performed on Document Packages are: