Sending Message to Collection Team Member
Follow the given procedure to send message to Collection Team Member(s):
Select the Collection Team. The team members belong to the selected team will be displayed under list of Collection Team Members.

Select the contact name(s) whom you want to send the message. Please note, you an only send a message to the members who have accepted the response.

Click  menu button and then once the menu opens click on Send Message menu item.  The Send Message window appears and the selected member(s) get included within To text box. This is shown below,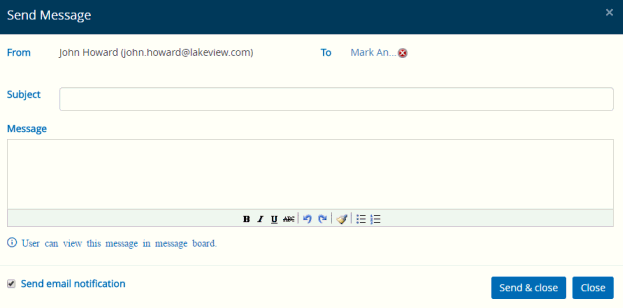 Click  to add more contacts in the To text box (either from all Collection teams or from specific teams), The From field is populated by your mail id.

Enter the subject and the message in the Subject and Message text fields respectively. Use the text-editor to design or transform the message according to your requirement.

Select Also send email notification check box to send e-mail notification along with the message. The message will be displayed on the message board.

Click Send & Close. The message will be send to the selected members and the Send Message window will be closed automatically.